Commercial Flooring
Nor-Cal Floor Design materials are built to withstand the rigorous use of commercial and retail settings. The outstanding appearance of our European Wide Plank floors also comes with improved performance, longer life, and reduced maintenance compared to other flooring options.



Flooring For Business
Perfectly suited for showrooms, restaurants, galleries, and other commercial spaces, our European Wide Plank floors are constructed using three precision-engineered layers, resulting in an incredibly stable floor that resists warping and cupping. The wear layer (top layer) is 4mm to 6mm thick allowing for the floor to be refinished just as much as a traditional solid floor. The middle layer (vertical grain spruce) is laid transversely, reducing swelling and shrinkage by roughly 80%, even in the most challenging climates.
Flooring For Longevity
Nor-Cal Floor Design products offer uncommonly beautiful flooring that is also attractive for commercial applications where longer flooring life, less maintenance, and reduced down time for refinishing combine outstanding appearance with a sound investment.
Superior Floors, Superior Performance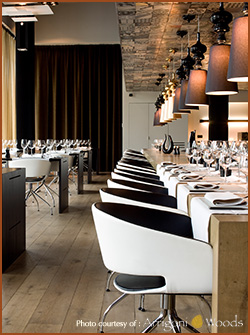 Nor-Cal Floor Design provides the highest quality wood flooring with superior fit and finish, resulting in timeless beauty and superior durability. Not only do we have the ultimate wood flooring products, we are dedicated to quality and customer relationships.
We invite you to see the European Wide Plank difference for yourself.